Unbelievable Protection
Effectively Catch & Kill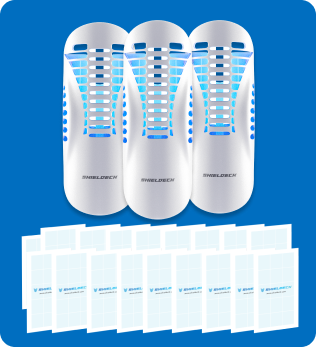 Mega Pack
Regular price
$195.00
Sale price
$134.00
Unit price
per
Sale
Sold out
FREE 3-Day Express Delivery


2x Bulb
Buy 2 and Save 10%
MOST POPULAR

3x Bulb
MOST POPULAR
Buy 3 and Save 20%
View full details
1-Year Hassle-Free Warranty
30-Day Money Back Guarantee
Specifications+
Frequently Asked Questions
What type of UV light does the lamp emit?
It comes with an CCFL light Bulb, which uses a 365 nm wavelength,
designed to entice flying insects, while being completely safe for
humans and pets.
Does it need to be always plugged in to work?
Yes, it can be plugged in on any wall adapter, power bank, etc. It does not have a battery, so it must be plugged in.
How long does the light last for?
The light has a life of 15,000 hours. If you use it for 10 hours a day, it should last over 4 years.
What type of insects does it trap?
The WallTrap is designed to trap any type of flying insect, such as
mosquitoes, flies, fruit flies, gnats, moths, wasps, and no-see-ums.
Are sticky pads included in the box or do I need to buy a pack separately?
We include 5 glue boards in the original product, and you can buy them separately through this link: Replacement Sticky Pads.
Do the sticky pads emit a scent?
No, the WallTrap is completely odorless, and noiseless, it does not
contain any chemicals. Therefore, it is totally safe for your family and
pets. You can purchase Replacement Sticky Pads directly through this
link: Replacement Sticky Pads.